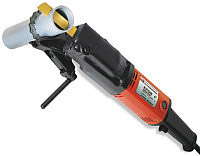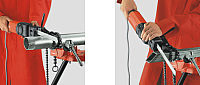 £477.75
+ Delivery
+ VAT
Saw blade selection
Use special ROTIGER pipe saw blades for right angled cutting in conjunction with the chain pipe clamp.
Chain pipe clamp
6" capacity supplied as standard.


For rapid right-angled precision cutting of steel pipes up to 6" (165 mm). Tool has built in speed control adjustment.
Precision square 90° sawing using the chain pipe clamp and ROTIGER special saw blades
One pipe clamp covers all pipe sawing requirements up to 6" (165 mm) diameter
Rapid, safe and secure clamping of square, round, rectangular or irregular shape material
Chain tension lever for fine adjustment of the clamping pressure, preventing unnecessary deformation to pipes
The ergonomically designed handle and chain pipe clamp enable maximum leverage to be exerted for effortless cutting and quick results
Powerful 1050 W, double insulated motor.
Fast and effective - only 4 secs. to cut right through a 1 1/4" steel pipe
Reciprocating action with 1" and variable speed of 800-2300 strokes per minute
Can also be used for freehand sawing
Motor is equipped with overload cut-out switch
Gearing is fully protected from water and dust
Dimensions
L 19 7/16", W 3 1/2", H 3 1/3"