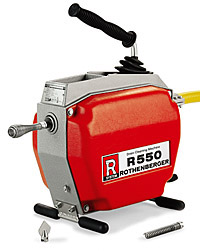 £1,110.60
+ Delivery
+ VAT.
Functional design

Rigid, extremely lightweight cast aluminum frame, with particularly rugged side panels made of glassfibre reinforced polyamide material to protect the machine
Strengthened guide hose sheathing with precision quick coupling device ensures safe, kink-free spiral feed and prevents dirt ingress
Weighs only 34 lbs.
Rubber covered feet for stability - no scratching or damage to sensitive surfaces
Tripod stand for working on toilets and inspection holes (available as accessory).
R 550 Drain Cleaning Machine
A totally safe drain cleaning machine for use by the plumber or caretaker in domestic housing facilities, and for maintenance work in hotels and restaurants, in hospitals, nursing homes and municipal premises.

Particularly lightweight, compact and handy, perfect for general purpose maintenance work on baths, wash basins, toilets, in kitchens, canteens, on waste pipes, drains and fall pipes.

For use with the following cables:n
Ø 5/8" with direct drive
For pipe sizes: 3/4" - 4" Ø
Max. operating distances: 150' 5/8" cable




CENTRE-LOCK Cable drive

Centrally positioned drive lever ensures concentrated power transmission with increased stability
When drive lever is locked in the stop position, it doubles as a carrying handle
Hardened, patented cable clutch design.
Enclosed plastic casing keeps working area clean and safe.
Secure radial clamping action ensures optimum power transmission and operational safety
Twin bearing-mounted drive shaft with sealed-for-life lubrication. Maintenance free.
Motor
RH and LH drive 1/3 HP
Constant rpm even under load.
Improved pull out torque.
Splash proofed