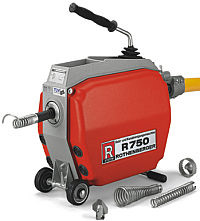 £2,428.59
+ Delivery
+ VAT.
Functional design
Rigid, extremely lightweight cast aluminum frame, with particularly rugged side panels made of glassfibre reinforced polyamide material to protect the machine from bangs and knocks
Reinforced guide hose sheathing with precision quick coupling device ensures safe, kink-free cable feed and prevents dirt ingress
Weighs only 74 lbs.
2 transport wheels and 2 rubber covered feet make the machine easy to wheel and give it a firm stand
Tripod stand for non-slip, more convenient working in an elevated position e.g. on toilets and inspection holes (availlable as accessory).
R 750 Drain Cleaning Machine
The totally safe pipe and drain cleaning machine, compact yet powerful and weight-effective. Suitable for large diameter pipes up to 8" and operating distances up to 250' with 1 3/4" cables. Perfect for cleaning domestic systems and mains.

Can be handled by one person. Wide range of applications. Maintains its power even on a demanding job requiring chain-spinning, grinding out or root cutting.

For use with the following cables:
1.1/4" with direct drive
For pipe of: 3/4" - 8" Ø
Max. operating distances: 250' with 1 1/4", 195' with 7/8"




CENTRE-LOCK Cable drive

Centrally positioned strengthened drive lever ensures concentrated power transmission for increased stability
When drive lever is locked in stop position, it doubles as carrying handle. Handle can also be swung backwards through 180° and locked when wheeling the machine.
Patented cable clutch design. Takes standard cables without changing clutch jaws.
Clamp clips can easily be fitted from outside to take 8, 10 or 16 mm Ø cables
Secure all-round clutch action ensures optimum power transmission and operational safety
Twin bearing-mounted drive shaft with sealed-for-life lubrication. Maintenance free.
Low friction tooth belt and toothed pinion ensure full exploitation of motor capacity. No drive shaft slippage.
Genuine chain spin and milling action
Motor
Perfectly suited for hard work, tried and tested under the most arduous conditions. Very quiet running. Maintains its power even when cutting through roots or grinding out cement or lime deposits
0.94 HP, RH and LH operation
Constant rpm even under load, increased pull out torque
Radio suppressed, splash proofed