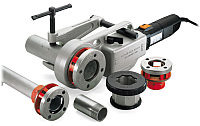 Gears
High reduction gears with spur wheel teeth, 7 parallel gear shafts, each ball bearing mounted on both sides for optimum constant level power transmission
Compact gear housing carefully angled to facilitate access when working in confined spaces (corners and shafts), off-set die head mounting for working close up to walls
High quality cast aluminum housing with protective epoxy coating
Completely dust tight. Service-free, sealed lubrication.
All controls ergonomically positioned
Carefully designed center of gravity makes threading easy in all positions and protects the motor from damp and dirt when machine is put down
SUPERTRONIC 2000
Portable Power Threader
Quick and effortless production of safe precision threaded joints to approved standards.

NPT 1/4" - 2"
NPT 1/4" - 1 1/4"

The perfect portable threader for use in the workshop, on the site, for maintenance and repair work by both tradesman and industry. This highly versatile tool is ideal for use without a vise, in any areas of limited access such as tight corners, close to walls or ceilings.
High performance output from minimal energy consumption.



1 1/2" and 2" die heads fit directly into the machine on 2" set #71260
Both heads are held by the tension ring to prevent them from falling out
Small die heads (1/4" - 1 1/4") are held by using the ROFIX adapter
Innovative technology - the ROFIX automatic locking device ensures that the die head is held firmly in place. No hand contact with moving parts - increased safety.
Motor
Reliable 750 W universal motor, double insulated.
High reduction gear box guarantees constant power from motor to threading heads, in either direction.
Threading speed of 15 - 25 rpm, with 60 rpm high speed rapid reverse
Simple safety switch