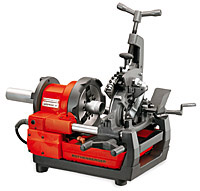 £1616.00
+ vat
Delivery:
£39.00 + vat.


Easy-to-service design:

Good external access to all key components
Chuck jaws, carbon brushes motor and oil pumps are quick and easy to change
External, central lubrication of drive shaft bearings
Die heads
Precision dies
High quality tempered steel, provides professional results
Oiling and lubrication
Powerful robust oil pump with flow adjustment, triple chip filter and automatic oil feed ensures optimum lubrication and cooling
Generous tray to collect chips
Safety features
Supertronic 1S and 2S
Compact Threading Machines
A revolution in pipe threading, a successful concept showing the way forward in compact threaders.
Quick, problem-free production of pipe threads to the following standards

NPT 1S NPT 1/2" - 1"
NPT 2S NPT 1/2" - 2"

The ideal threader for portable situations, either in the workshop or on the construction site. Perfect for maintenance or repair work for the tradesman or industry and suitable for any plumbing and heating threading application.

Extremely compact, yet robust - the 2S machine weight is only 84 lbs. and can be easily moved by one person. Can be set up anywhere, even without the leg stand i.e. on a workbench. Also suitable for threading plastic coated steel pipes.




Drive

550 W powerful universal motor
External spindle lubrication
Automatically adjusts for torque
External lubrication of main bearings
Pipe Chucks
Smooth action impact hammer chuck for powerful grip. Prevents pipe slipping.
Rear centering chuck ensures correct axial alignment
Carriage
Dual handle with rapid, smooth adjustment
Pipe cutter and reamer
Self centering pipe cutter
Swing out reamer with replaceable blades
Dimensions:
1S - L 15", W 12", H 11"
2S - L 19", W 28", H 13"