£nnn.nn
+ vat
Delivery:
£39.00 + vat.
Oiling and Lubrication
"Quick Shot" lubricating system.
Oil Reservoir
2 gallons.
Use Ro-Cool cutting oil, a special blend of sulfo-chlorinated mineral oil assures long die life and superior quality threads.
Automatic Die Heads
Automatic 2 1/2" to 4" standard.
1/2" to 2" automatic die head, small die head adapter, and reamer, optional.
Automatically adjusted thread length.
Threading range with optional package:
Pipe or conduit - 1/2" to 4"
Bolt or rod - 5/8" to 2 1/4".
Safety
All units come with safety foot switch.
Cut-off switch to limit carriage travel.
Dimensions
Length 41 7/16"
Width 24"
Height 22"
Noise level



The RHINO®
1/2" - 4" Threading Machine
Top quality threading machine for standard use by plumbing and electrical contractors. Complete machine comes standard with 2 1/2" to 4" automatic die head and dies. Optional 1/2" to 2" automatic die head and dies are available.




Drive Motor

Heavy Duty, 240 V, universal opt 230V AC/DC 50 Hz. Develops up to 3 HP.
6 brush motor for higher torque.
High speed threading - 25 rpm.
Easy to maintain and service.
Spindle Speed
Pipe Cutter and Reamer
Precision pipe cutter with dual guide for accurate pipe cutting and control to achieve precise length required.
5 blade conical reamer for 1/8" to 2" optional blade reamer for 2 1/2" to 4".
Pipe Chuck
Collins SUPER GRIP chucking system.
R/L chucking. 4 double chucks at both front and rear of machine ensure that pipe is automatically gripped and centered. The grip is absolutely non-slip.
Chuck jaws are easy to replace.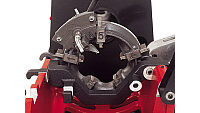 Alloy Precision Dies
Long operating life.
Optimum cutting geometry and excellent chip discharge.
Stands
Open wheel stand with tool tray.
Closed wheel stand with locking tool cabinet.
All stands optional equipment at added cost.