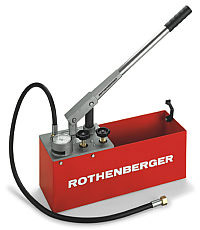 £301.04
+ Delivery
+ VAT
Extremely rugged handle hinge with long shaft. Lubrication nipple for low-wear pressure transmission on piston.
Monoblock brass shut-off system reducing risk of leaks from threaded connections. Built-in precision shut-off valve (fill and drain valve).
Weather proof solid cover with comprehensive pressure gauge protection.

Testing pump for quick precision testing of pressure or airtightness in pipework systems and containers used in plumbing and heating installations. Also for compressed air, steam, cooling, oil and sprinkler installations. Applications also in the field of boiler and pressure vessel manufacture. No fitter should be without one. Filling and pressure testing in one operation.


Tank capacity: 3 gallons
Suction capacity: approx 45 ml/stroke
Dimensions: 28.4" x 6.7" x 10.2"
Connections: R 1/2"
Hydrostatic Test Pump

Features:
Pressure test using oil and water
Weather and cold proof galvanized tank. Additionally protected with epoxy coating.
High volume feed for quick filling on long stroke. Fine precision pressure equalization and adjustment on short stroke.
Distortion proof handle with ergonomic rubber grip doubles as carrying handle
Specially ground distortion free polyamide piston, 30 mm Ø, wear resistant
Twin valve system and valve spindle with rust-proof ball head ensure constant pressure levels
Test hose manufactured from steel reinforced material to reduce measurement errors
5 year rust free guarantee on tank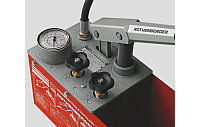 Long piston guides with o-ring seal and dirt scraper. Suction filter protects against dirt and wear. One way flow.
Large pressure gauge, easy to read, fine scale, 3 measurements (bar, psi, MPa).
Testing and pressure range:


0 - 60 bar, 1 bar steps


0 - 860 psi, 20 psi steps


0 - 6 MPa, 0,1 MPa steps